Movies
Fire Island Review: the Pines hosts genuine queer experience
Fire Island provides a hot summer escape with all the drama one would expect from the real-life vacation spot for NYC gays. The famous island lends its name and plays host for the all-queer rom-com based on Pride and Prejudice.
Premiering this Friday on Hulu, Andrew Ahn's Fire Island translates the Jane Austen novel as a modern queer dramedy thanks to Joel Kim Booster's fresh and witty writing. And Booster takes the lead on screen, starring as Noah, a gay male version of Elizabeth Bennet who experiences similar experiences to the Regency-era protagonist.
The film came to Booster during his first trip to Fire Island when in 2016 he visited the island with Bowen Yang, an actual copy of Pride and Prejudice in tow. The parallels between the novel and what the writer saw at the Pines was so obvious, the idea for the film was born on that trip. The modern flirting rituals among gay men became the fodder for telling a tale between varied classes within the queer community.
The rigid class structure captured in Austen's novel might sound dull and repressed compared to today's world, but this is where the inspiration ends and the real world of gay hookup culture shines through.
The movies follows nurse Noah and his socially-anxious best friend Howie (Bowen Yang) as they land on Fire Island for a week's holiday among their tight group of broke friends, staying for one last time at their friend Erin's vacation home. Erin (Margaret Cho), the lesbian mother of their chosen family, now quite broke has to sell her home, ending an era for the family.
Howie is a romantic who has yet to have a boyfriend, but Noah has made it his mission to see his friend laid, even before he's hooked up. But when a mate for Howie appears in the form of Charlie (James Scully), Noah also meets Will (Conrad Ricamora), the token Asian in a clique of rich white A-gays. They immediately butt heads, yet there's also chemistry between the pair, and an awkwardness emerges, fuelled by racial tensions and the self-defined class structure.
James Scully (left), Nick Adams and Conrad Ricamora in Fire Island.
Despite the strong BIPOC cast and inclusive storyline, there is a feeling that Howie and Noah need to be good enough for their respective A-gay hookups, begging the question why it's not Charlie and Will needing to prove themselves (a tall order considering adonis Noah and sweet sharp-witted Howie are far better).
Skewering romantic comedies with sharp wit mixed with moments of trope-rich romance (the typical meet-cute), and queer realness (tea-dances, orgies and perfect bodies).
The film is likely to sit among the classic gay romantic comedy's of years past, while also being able to reach a larger audience beyond the typical festival circuit. Yet Booster doesn't care if straight viewers don't get every gay joke—this is not a film for them.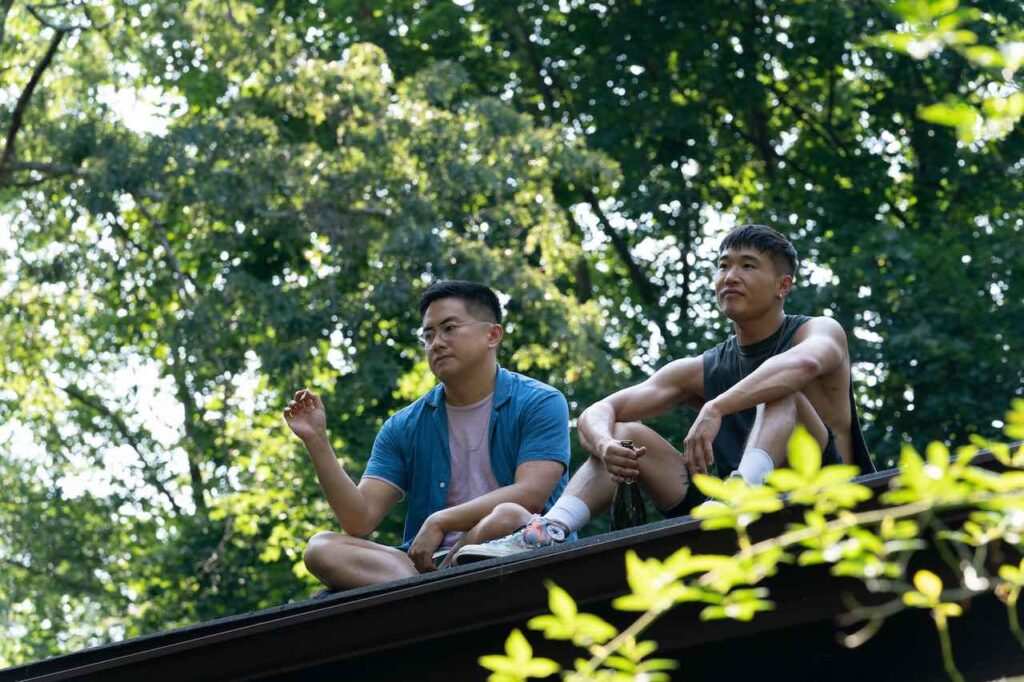 Bowen Yang and Joel Kim Booster.
While a mainstream romantic comedy backed by Disney (but not showing on Disney+), it's a movie following queer BIPOC characters, annoyingly an achievement for 2022 (how low the bar has been). Even before Disney got caught out for Don't Say Gay, the studio (through Searchlight Pictures) supported Ahn and Booster's project that finally shined a light on queer Asian-American culture, delivering LGTBQ specific jokes that a mainstream audience might not get. However, it does come with that 18+ parental lock recently introduced by Disney—so the studio is inclusive, but paternal.
Is it Tres? Unapologetic, queer, and funny, Fire Island is a joyful and heartwarming celebration of queer Asian-Americans. And an enjoyable watch to start this year's Pride season.
Stream Fire Island on Hulu from June 3
(Feature photo, from left): Tomas Matos, Matt Rogers, Joel Kim Booster, Margaret Cho and Torian Miller in Fire Island.