Movies
Fire Island unapologetically queer cast and characters
With 11 days to go until Fire Island premieres on Hulu, actors from the film have been giving interviews. In the last two days Conrad Ricamora (How to Get Away With Murder) and Zane Philips (Legacies) gave interviews to GT covering topics from LGBTQ representation to some of the dramatic twists to expect.
The Andrew Ahn directed film written by comedian Joel Kim Booster, who also stars in the lead role of Noah, is a reimagining of Pride & Prejudice set on popular gay vacation destination Fire Island.
Conrad plays Will, the Mr. Darcy to Noah, a love interest from another clique. The actor praised Booster's sharp writing in a script that celebrates LGBTQ culture. (There are apparently no straight characters in the film!)
"We need movies that focus on our trauma. Then, we need movies show us going to the grocery store, show us hanging out with friends, going to the beach, going on vacation. It's not just about our minority identity," said Ricamora in his GT interview.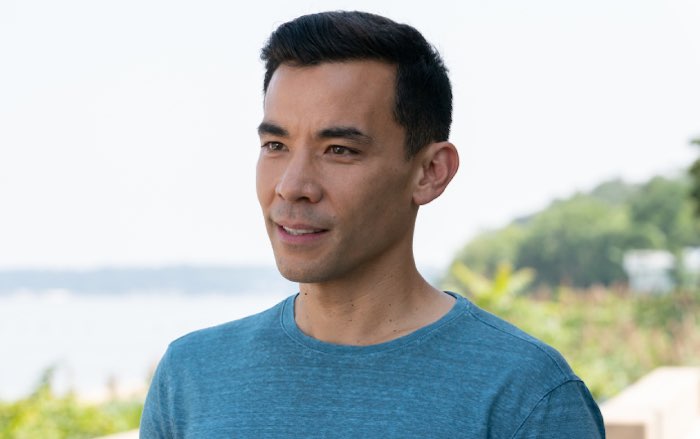 For Zane Philips, who was recently on the final season of Legacies, his character in Fire Island is quite different from the role of a gay demigod. He plays Dex, a "sex-positive" gay with an Onlyfans. Being on a set surrounded by members of his own community was comforting.
"Just being able to say, 'I don't have to worry about how my voice sounds like, right?' which is wild," he says of a prior conversation he had with director Ahn.
"Even within our own community, we're always fucking censoring ourselves and making sure that we're living up to an ideal that comes from outside the community. We've all internalised it and now we're torturing each other at any given point," he told GT.
When he heard of the film, Philips sought Booster out and willed a role in the movie for himself.
"I didn't know [Joel] before doing this project, but I followed him. I was like, 'I wanna be in that.' I saw myself as more of a Jane at that point, but whatever. I had never wanted to be part of a project more," he gushes. "They took a chance on me, despite having very few credits to my name!"
Fire Island premieres June 3 on Hulu